(TS Eliot's the wasteland, rewritten in the LOLCat of i can has cheezburger. Image from blork.org.)
i seez cumean sybil
sybil can has bukkit?
sybil wantz DIE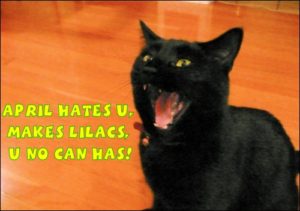 1. IM IN UR WASTELAND BURYING UR DEAD
april hates u, makes lilacs, u no can has. (1)
april in ur memoriez, making ur desire.
spring rain in ur dull rootzes.
earth in ur winter, covered in snow
can has potato. PO-TA-TO.
INVISIBLE SUMMER! RAININGZES!
im in ur hofgarden, drinking ur coffeez.
at archduke's haus, invisible sled!
im in ur moutainz, holding on tight.
no can has cheezburger.
oral sex metaphors in ur poem.
in ur stones, whar r treez? (19)
whar r bushez?
ceiling cat cannot say.
im in redrock, hiding from sunz.
commin ze redrock.
im in ur handfull of dust,
showing ur fear.
redrock, redrock.
whar r wind?
INVISIBLE IRISH GIRL
in ur homelandz, freshening ur windz
can has hyacinths,
no can has tongue.
Isolde u down teh rivers.
Sosotris Cat has smartz, (43)
can see bukkit,
dead sailorz in bukkit,
hooked on fonicians.
belladonna in ur rocks,
situating ur situations.
man has three staves,
turning wheelz,
INVISIBLE CARD.
Sosotris Cat no can has hanged man:
avoid bukkit or u drownz.
INVISIBLE CITY (60)
i see dead peoplez under bridge,
i see dead peoplez on der streets,
walrus has clocks, says NEIN.
bodiez in ur garden, sprouting ur zombies
dog no can has zombies!
II. U WANTS TO PLAY A GAME? (79)
She has shiny chair,
with tacky decor.
ornate fornicate apellate,
king in teh philomel,
shoutin up teh desert.
world cries 'jub jub bird,'
or is diffrent poem?
INVISIBLE BANDERSNATCH!
time killing everythingz,
platos cave wall,
forms in teh cave,
shuffling in teh stairs,
hushing teh room,
ushering teh fatez.
"i has bad nerves.
u can has speeches?
u can has thoughts?
u can has thinkings?"
OMG WTF RAT ALLEY (115)
dead manz no bonez!!!?!
OMG WTF NOISE?
INVISIBLE WIND!
OMG WTF NOISE?
ceiling cat is watching you masturbate.
OMG WTF? WTF U SEE? WHAT U NO?
no see, no know, no remember butt.
o o o o (125)
shakespeare rag is smartness.
im in teh street, walkens.
im in ur schedule,
measuring out ur life in teh coffee spoonz.
LOL hurry.
LOL can has fake teeth?
LOL ur husband back from war,
wants some more.
LOL hurry.
LOL in your bed, makinz teh kiddles.
LOL drugz LOL!
LOL eating lambz.
LOL SPEEDY LOL!
LOL goodnight
III. TEH SERMON, IT BURNZ (173)
if teh river running, why not moving?
INVISIBLE WIND.
nymphoz gone.
river has trash no more.
nymphoz and friends left,
no can find.
shakey bones with big laughs r here!
rat creepin in teh banks, (186)
fisher kingz has no fishies!
rat eatin kingz relatives.
king sees mrs potter, standing in teh bubbles.
potter daughter hotter.
twitter twitter
jub jub bird.
still in rong poemz
TRUE!
INVISIBLE CITY
eugenideez has raisin pockets,
no can parly francay,
wants lunch at cannon,
wants weekend at pole.
teh day is done,
teh crowd is throbbing.
tiresias iz teh hermafrodite!
tiresias sees:
teh sailor sails home
teh typist makes tea
teh house agent feelz typists
teh house agent can has nookiez
teh typist no has sensation
putting teh needle on record
omg hole in the wall
tiresias in teh thebes (grecian), speeking to deaders, sees on in!
thames has music,
city has shiny decor,
mandoline rains.
sweaty river
drifty barges
turny tides
it all goes downhill,
or at least downstream
hawaiian music
liz and lester
beating 'ores,
stern, swell, ripple,
all downstream,
big white towers
in teh canoe, (291)
i r laying, begin again.
INVISIBLE ANYTHING.
no can has anything!
carthago can has delenda (307)
fire! fire! fire!
IV: IN TEH WATERS, DYING.
dead fonician,
forgotten bukkit, gulls,
seas, moniez.
fonician hooked on current.
fonician in teh whirlpoolz, spinny
spinny fortunes' wheel.
in teh fonician, ponder ur fate!
V: U LISTEN THUNDERS OR ELSE!
after torchlight shiny in quiet gardens (322)
after sweaty faces in stony agony:
teh screamz and teh cries!
thunder in teh mountains, shaking all.
if u lives, u dies.
just wait.
u can has bukkit, (331)
no can has water,
ha ha no can has bukkit,
just rock and sand.
no stand, no sit,
no shirt, no shoes, no service,
just thunder shaking moutainzes.
no can has water.
no can has water.
actually, no can has rock either.
no can has water or rock,
or for that matter sand.
ceiling cat is watching you masturbate (360)
u and ur dirty friend.
what r sound?
who r teh hordes?
teh hordes on teh plains rushing.
what r teh cities?
INVISIBLE CITIES.
woman pulls out hairs tight,
and fiddles teh hairs.
teh bats r freaking!
towers ringing bells,
voices singing in wells.
rotten hole in mountains, (385)
moon shining on grass and gravez!
chapel is empty, only with chickens!
cockadoodle doo!
here comez the rains again.
teh metaphorz are thick and fast, (395)
no can has literal translationz.
ganga cat is watching ur fourth wall.
waiting for rainz.
cloudz in teh sky ar far ways.
THUNDERS!
datta means give!
in a moment u lives, transitory,
no can has recording.
dayadham means be compassionate!
u thinks bout prisoner,
thnks ur in prison,
damyata means have self-control!
u r boat on calm seas,
at least on good day
London bridges falling down! (425)
falling down! falling down!
fall down long time!
you get burned clean
or you goes hell!
burny burny burny!
prince at ruined tower,
storing pieces against ruin.
Hieronymo's goin crazeee cat!
dada dada dada
VISUALIZE WHIRLED PEACE.
© 2007 Corprew Reed, some rights reserved